AUG 18, 2022
Jan Smith, founder and CEO of S³, has made a gift of $200,000 to The University of Alabama in Huntsville (UAH) to establish the Janice Hays Smith Endowed Scholarship in Electrical Engineering.
Smith has given an additional $10,000 to UAH, a part of The University of Alabama System, as well to fund a recipient in 2022 to enable the student to benefit from the scholarship immediately.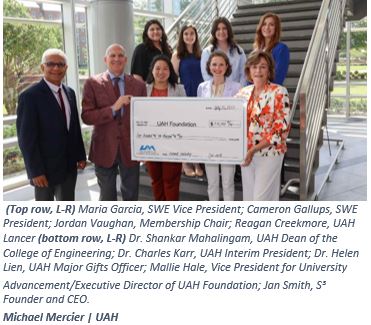 Each recipient will be known as the Janice Hays Smith Electrical Engineering Scholar.
"I'm so proud to be a part of this program and proud that UAH is a partner to our defense industry in Huntsville," Smith says. "This scholarship is my second scholarship. The first was aimed more toward cybersecurity or software engineers."
The new scholarship will be awarded to a full-time undergraduate student for their freshman, sophomore, junior or senior year, or to a full-time graduate student, pursuing a degree in electrical engineering. Scholarship recipients who are entering as freshmen must have a high school GPA of at least 3.5 on a 4.0 scale and have achieved a minimum ACT score of 30.
"On behalf of the electrical and computer engineering department, and the College of Engineering at UAH, I am truly grateful for Ms. Jan Smith's generosity," says Dr. Shankar Mahalingam, Dean of Engineering.