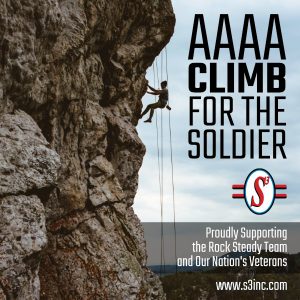 On August 19, 2019, a team of five Army Aviation Association of America (AAAA) members will embark on a challenging climbing expedition in the heart of Glacier National Park, Montana. Team "Rock Steady" has set their sights on reaching the summit of Mt. Piegan in an effort to raise money to support Combat Veterans along the way. System Studies & Simulation (S³) is proud to be one of the sponsors for this inspiring team.
"Climb for the Soldier" alumni Steven Sanders, Sr. and Steven Sanders, Jr. will be joined for this year's event by friends and fellow AAAA members Neil Thurgood, Cliff Calhoun, and Steve Mathias. While Steven, Sr. and Steven, Jr. have almost ten years of experience climbing at Glacier National Park, this will be the first climb for the other members of Rock Steady.
The route covers 4.61 miles of challenging terrain and over 3000 ft. of elevation change. The ascent will begin at the Siyeh Bend Trail Head in Glacier National Park, 6000 ft. above sea level. The team plans to climb to the summit of Mt. Piegan, over 9000 ft. above sea level, and team members are hopeful time and conditions will permit an attempt to summit Mt. Pollock as well. The team will enjoy breathtaking scenery and views while facing the challenges of scrambles over difficult terrain, including large scree fields and glacier snow, and possible encounters with active wildlife, including bears and mountain goats.
As an added incentive to complete the climb and for esprit de corps, Rock Steady is using this opportunity to raise money for the Combat Veterans Motorcycle Association (CVMA), Tennessee Valley Chapter. In addition to company donations, climbers are collecting pledges of $1 for every 100 ft. of elevation completed in the climb. The team's travel costs and climbing expenses are self-funded; all proceeds will go directly to the CVMA and their mission to help veterans in North Alabama and support deployed Soldiers during times of need. The team's goal is to raise more than $3000 for the CVMA, and S³ is excited to be one of the corporate sponsors that can help make this goal possible!
For more information about the climb or to inquire about pledging support, visit the link below:
https://www.emailmeform.com/builder/emf/janicedarrowby/climbforthesoldierpledge
Photo by Jonathan Ouimet on Unsplash